SUSTAGEN® Diabetic Ready to Drink
All the goodness of SUSTAGEN® Diabetic in a convenient, single serve, ready to drink format.
SUSTAGEN® Diabetic has been designed specifically for people with pre-diabetes or diabetes (type 1 or type 2). Provides essential nutrition and is low GI.
Available in pharmacies.
Low GI
High in Protein
High in Fibre
Nutritionally complete with all essential vitamins & minerals.
SUSTAGEN - Stay strong, stay active
Eating regularly and monitoring the quality and quantity of carbohydrate can help you avoid wide fluctuations in your blood glucose levels. However, when your appetite is poor and you're finding it difficult to meet your nutritional requirements through food alone you may find SUSTAGEN® Diabetic useful.
If you are living with diabetes and concerned about your nutritional intake SUSTAGEN® Diabetic provides essential nutrition without negatively impacting blood glucose levels.
SUSTAGEN® Diabetic nutritional drink has been designed specifically for people with pre-diabetes or diabetes (type 1 or type 2).
Easy preparation
SUSTAGEN® Diabetic is available in a convenient ready to drink pack.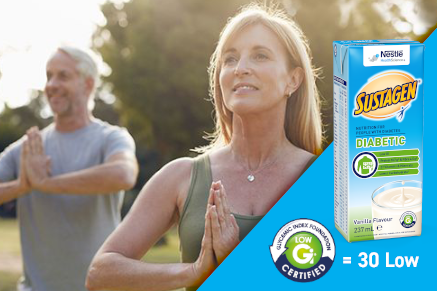 Nutritional profile

Ingredients
Water, Tapioca Dextrin, Vegetable Oil (High Oleic Sunflower, Low Erucic Acid Rapeseed), Milk Protein Concentrate, Whey Protein (Milk), Isomaltulose, Guar Gum, Stabilizers (414, 460, 466, 407), Minerals (Sodium Citrate, Potassium Chloride, Sodium Phosphate, Magnesium Oxide, Ferrous Sulphate, Zinc Sulphate, Copper Gluconate, Manganese Sulphate, Chromium Chloride, Potassium Iodide, Sodium Molybdate, Sodium Selenite), Maltodextrin, Fructo-Oligosaccharide, Inulin, Emulsifier (Soy Lecithin), Acidity Regulator (330), Inositol, Choline Bi-tartrate, Vitamins (C, Calcium Pantothenate, Nicotinamide, B6, B1, A, B2, E, Folic Acid, K1, Biotin, D3, B12), Artificial and Natural Flavourings, L-Carnitine, Sweetener (Potassium Acesulfame), Taurine. Contains Milk and Soy.