SUSTAGEN® Diabetic Ready to Drink
Are you currently using SUSTAGEN Diabetic 237ml or are looking to purchase? Please note that from late March 2021, SUSTAGEN Diabetic ready-to-drink will be transforming to NUTREN Diabetes ready-to-drink. New brand, new recipe, new packaging format and great new taste.
SUSTAGEN® Diabetic (soon to be NUTREN Diabetes) has been designed specifically for people with pre-diabetes or diabetes (type 1 or type 2). Provides essential nutrition and is low GI.
Available in pharmacies.
Low GI
Source of Protein
Source of Fibre
Nutritionally complete with all essential vitamins & minerals.
SUSTAGEN - Stay strong, stay active
SUSTAGEN Diabetic is transforming to NUTREN Diabetes.
At Nestlè Health Science, we are committed to developing trusted nutritional solutions for people with diabetes and pre-diabetes. That's why we are launching NUTREN - a new, dedicated brand.
You can find more details regarding the changes to brand name, recipe and packaging format here.

Have more questions? Check out the FAQ's or in Australia call 1800 671 628 or in New Zealand 0800 607 662.
SUSTAGEN® Diabetic and NUTREN Diabetes nutritional drink have been designed specifically for people with pre-diabetes or diabetes (type 1 or type 2).
Easy preparation
SUSTAGEN® Diabetic is available in a convenient ready to drink pack.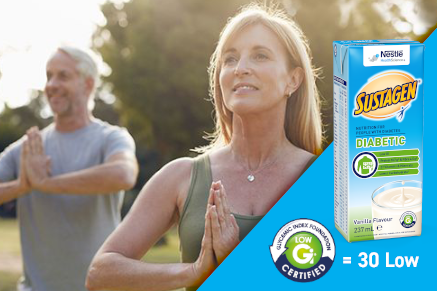 Nutritional profile

Ingredients
Water, Tapioca Dextrin, Vegetable Oil (High Oleic Sunflower, Low Erucic Acid Rapeseed), Milk Protein Concentrate, Whey Protein (Milk), Isomaltulose, Guar Gum, Stabilizers (414, 460, 466, 407), Minerals (Sodium Citrate, Potassium Chloride, Sodium Phosphate, Magnesium Oxide, Ferrous Sulphate, Zinc Sulphate, Copper Gluconate, Manganese Sulphate, Chromium Chloride, Potassium Iodide, Sodium Molybdate, Sodium Selenite), Maltodextrin, Fructo-Oligosaccharide, Inulin, Emulsifier (Soy Lecithin), Acidity Regulator (330), Inositol, Choline Bi-tartrate, Vitamins (C, Calcium Pantothenate, Nicotinamide, B6, B1, A, B2, E, Folic Acid, K1, Biotin, D3, B12), Artificial and Natural Flavourings, L-Carnitine, Sweetener (Potassium Acesulfame), Taurine. Contains Milk and Soy.