SUSTAGEN® Everyday - Vanilla
SUSTAGEN® Everyday Vanilla is a great tasting, nutritional drink that gives you the energy to make the most of your day, every day.
Try it as a mid-morning snack, or afternoon energy boost.
Available in supermarkets and selected independent groceries
Low in fat
14 vitamins and minerals
Gluten free
Buy now
SUSTAGEN - Stay strong, stay active
Some days you're after a low GI, great tasting nutritious top up of energy, plus key vitamins and minerals. SUSTAGEN® Everyday Vanilla is a great way to add a great tasting nutritional top up to your busy day.
A great nutritional top up

A mid morning snack or afternoon energy boost
Easy preparation
Mix 3 teaspoons* with 150ml reduced fat milk (or whole milk depending on taste).
*1 teaspoon SUSTAGEN® = 5g (approx.).

Stir before serving. Great chilled or served warm.

All prepared products should be tightly covered and consumed within 6 hours at room temperature or within 24 hours if refrigerated.
Store in a cool dry place and use within 4 weeks after opening.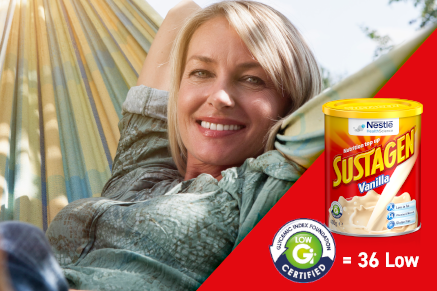 Available flavours:
Nutritional profile
Ingredients
Non Fat Milk Solids (55%), Sugar, Corn Syrup Solids, Flavour, Vitamins (Sodium Ascorbate, Tocopheryl Acetate, Niacinamide, Ascorbic Acid, Retinyl Acetate, Cyanocobalamin, Thiamin Hydrochloride, Folic Acid), Minerals (Ferrous Sulphate, Zinc Sulphate), Lactose (Milk). Contains Milk. May contain Soy. Gluten Free.