SUSTAGEN® SPORT - Chocolate
Fuel your body before or after exercise with SUSTAGEN® Sport supplementary sports drink.
SUSTAGEN® Sport Chocolate flavour is a great tasting, low fat, nutritional top up, packed with protein, and key vitamins and minerals for sustained low GI energy. Designed to assist with preparation and recovery from sporting activities.
Available in pharmacies.
High in protein
Low in fat
17 vitamins & minerals
Low GI = 36 (glycemic index when made up with water)
Buy now
SUSTAGEN - Stay strong, stay active
SUSTAGEN® Sport Chocolate is a delicious, low fat, nutritious sports supplement, suitable for all types of athletes to drink before or after training sessions. Designed to assist with preparation and recovery from sporting activities.
SUSTAGEN® Sport provides protein necessary for tissue building and repair, carbohydrate as an energy source for exercising muscles plus 17 essential vitamins and minerals. Designed to help athletes achieve optimal nutrition when used in conjunction with an appropriate physical training program and consumed alongside a nutritious diet.
Easy preparation
Mix 3 heaped tablespoons** with 200ml water or skim/reduced fat milk (depending on taste).
**1x tablespoon of SUSTAGEN® SPORT = 20g (approx.).
Stir before serving. Great served chilled or warm.
All prepared products should be tightly covered and consumed within 4 hours at room temperature or within 24 hours if refrigerated.
Store in a cool dry place and use within 4 weeks after opening.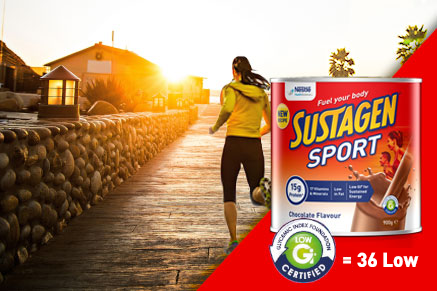 Available flavours: 
Nutritional profile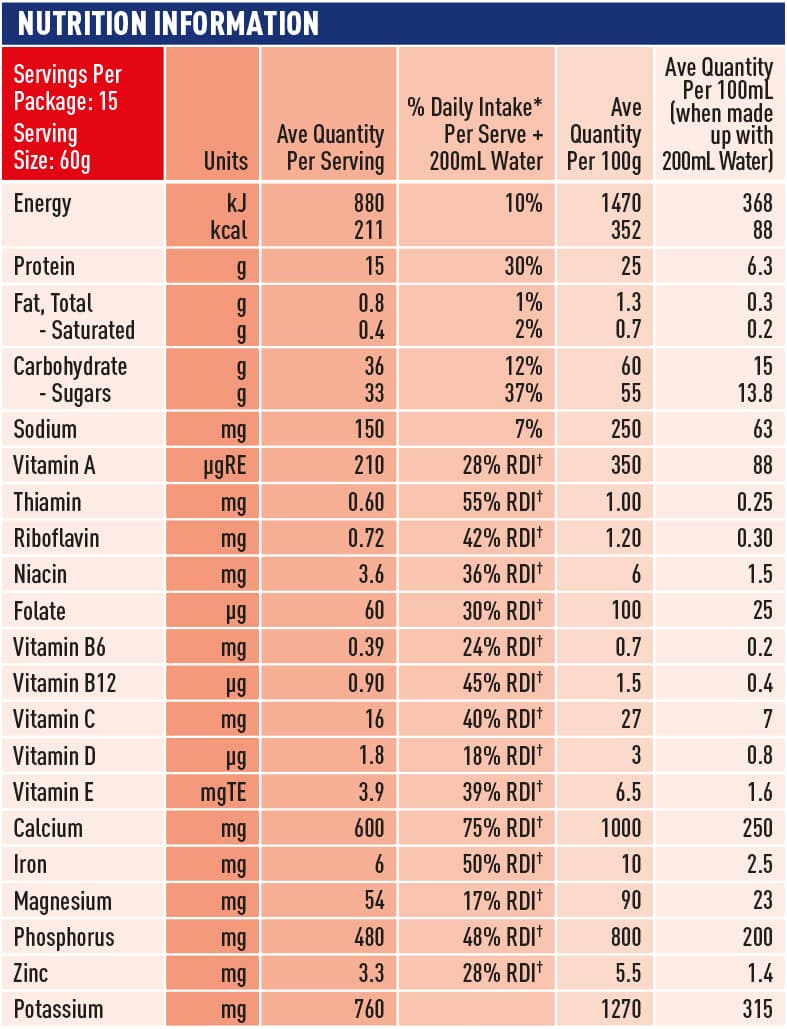 Ingredients
Non Fat Milk Solids (70%), Sugar, Cocoa (5%), Maltodextrin (Corn), Whey Protein Concentrate (Milk), Minerals (Calcium Phosphate, Ferrous Sulphate, Zinc Sulphate, Potassium Iodide), Flavour, Vitamins (Sodium Ascorbate, Tocopheryl Acetate, Niacinamide, Thiamine Hydrochloride, Pyridoxine Hydrochloride, Retinyl Acetate, Folic Acid, Cyanocobalamin, Cholecalciferol). Contains Milk.