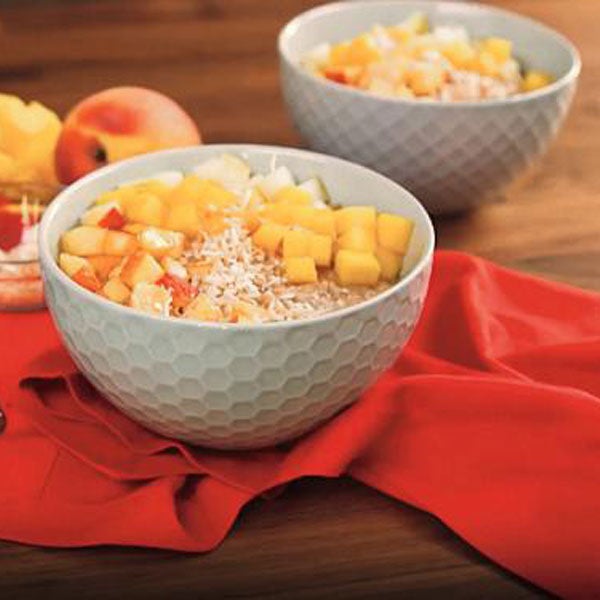 Ingredients
2 3/4 cups (690mL) almond milk
1 ¾ cups (210g) SUSTAGEN OPTIMUM
1 tsp ground cinnamon
¾ tsp ground ginger
½ tsp ground cardamom
1 3/4 cups (165g) traditional oats
½ cup (60g) toasted pecans, chopped coarsely
1¾ cup (180g) diced mango, peaches or pears
¼ cup (20g) toasted shredded coconut
1 tbsp honey
Method
In a medium saucepan over low-medium heat, combine almond milk, SUSTAGEN OPTIMUM, cinnamon, ginger and cardamom; stir occasionally until almost at a simmer.
Stir in oats and simmer for 3-5 minutes, stirring constantly to avoid catching on the base of pan. Remove from heat; stir through pecans and stand 3-4 minutes or until oats reach desired consistency.
Divide among serving bowls. Top each with mango (or other fruit of your choice) and coconut; drizzle with honey.
Nutritional information
| Nutrient | PER SERVE | Quantity per 100g |
| --- | --- | --- |
| Weight (g) | 348.11g | 100.00g |
| Energy(kJ) | >2725.74kJ | >783.02kJ |
| Protein (g) | 18.37g | 5.28g |
| Total Fat (g) | 32.09g | 9.22g |
| - Saturated Fat (g) | 5.64g | 1.62g |
| Carbohydrate | >68.43g | >19.66g |
| Sugars | 24.11g | 6.93g |
| Dietary fibre (g) | 10.36g | 2.98g |
| Sodium (mg) | 221.23mg | 63.55mg |
Other recipes you may be interested in
See all >