Chocolate Mocha Energy Bars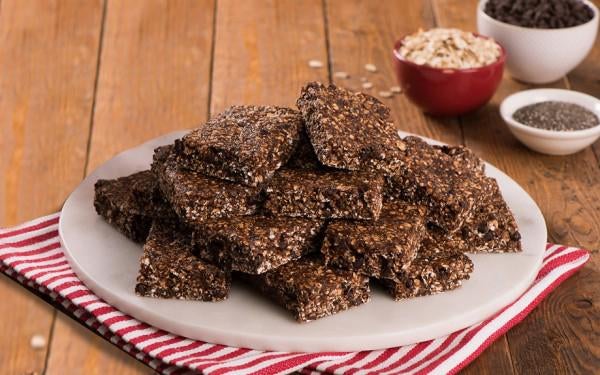 Ingredients
2 cups (280g) quick-cook oats
1 cup (190g) chocolate chips
2/3 cup (90g) hemp seeds
2/3 cup (70g) cocoa powder
1 tbsp instant coffee powder
1/4 cup (45g) chia seeds
1 cup (140g) pitted dates
1 ¼ cups (200g) SUSTAGEN Hospital Formula Chocolate Flavour
¾ cup (190mL) water
1/4 cup (60mL) melted coconut oil
Method
Grease and line a 23cm square baking pan with baking paper.
In large bowl, stir together oats, chocolate chips, hemp seeds, cocoa powder, instant coffee powder and chia seeds; set aside.
Using a blender or food processor, pulse pitted dates, SUSTAGEN Hospital Formula Chocolate Flavour powder, water and coconut oil until smooth.
Combine date mixture and oat mixture in a bowl. Transfer mixture into prepared pan and press down firmly. Freeze for 40 minutes or refrigerate for 2 hours or until firm. Cut into 24 bars.
Nutritional information
| Nutrient | Per Serve | Quantity per 100g |
| --- | --- | --- |
| Weight (g) | 52.78g | 100.00g |
| Energy - kJ | >827.63kJ | >1568.12kJ |
| Protein (g) | 6.36g | 12.05g |
| Total Fat (g) | 8.91g | 16.89g |
| - Saturated Fat (g) | 4.21g | 7.98g |
| Carbohydrate | >21.62g | >40.96g |
| - Sugars | 11.93g | 22.61g |
| Dietary fibre (g) | >3.29g | >6.22g |
| Sodium (mg) | 37.37mg | 70.80mg |