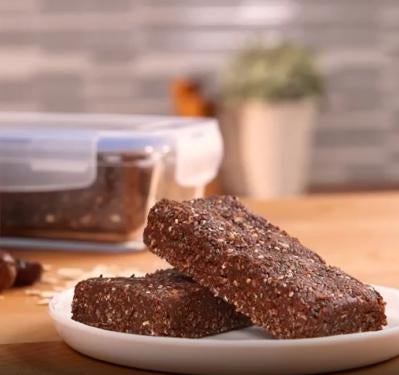 Ingredients
2 cups (160g) quick-cook oats
1 cup (140g) pitted dates
½ cup (40g) shredded coconut
½ cup (50g) cocoa powder
2 ¼ cups (360g) SUSTAGEN Hospital Formula Chocolate Flavour
¼ cup (60mL) melted coconut oil
¼ cup (70g) almond butter
½ cup (125mL) water
¼ cup (45g) chia seeds
Method
Grease and line a 20cm square baking pan with baking paper.
In food processor, pulse together oats and dates until chopped.
Add coconut, cocoa powder and SUSTAGEN Hospital Formula Chocolate Flavour; pulse for about 30 seconds or until in fine crumbs, scraping down sides of bowl as needed.
Add coconut oil, almond butter, water and chia seeds; process until smooth and well combined. Press mixture into prepared pan; refrigerate for 2 to 3 hours or until firm. Remove from pan and cut into 12 bars.
TIPS
- Refrigerate bars between pieces of waxed paper in airtight container for up to 3 days.
- For an extra chocolatey bar, add some chopped 70% dark chocolate to the mixture before pressing into pan.
Nutritional information
| Nutrient | Per Serve | Quantity per 100g |
| --- | --- | --- |
| Weight (g) | 90.80g | 100.00g |
| Energy - kJ | > 1524.01kJ | > 1678.50kL |
| Protein (g) | 11.30g | 12.45g |
| Total Fat (g) | 17.86g | 19.67g |
| - Saturated Fat (g) | 11.03g | 12.15g |
| Carbohydrate | > 37.62g | > 41.44g |
| Sugars | 20.13g | 22.17g |
| Dietary fibre (g) | 5.73g | 6.31g |
| Sodium (mg) | 98.89mg | 108.91mg |