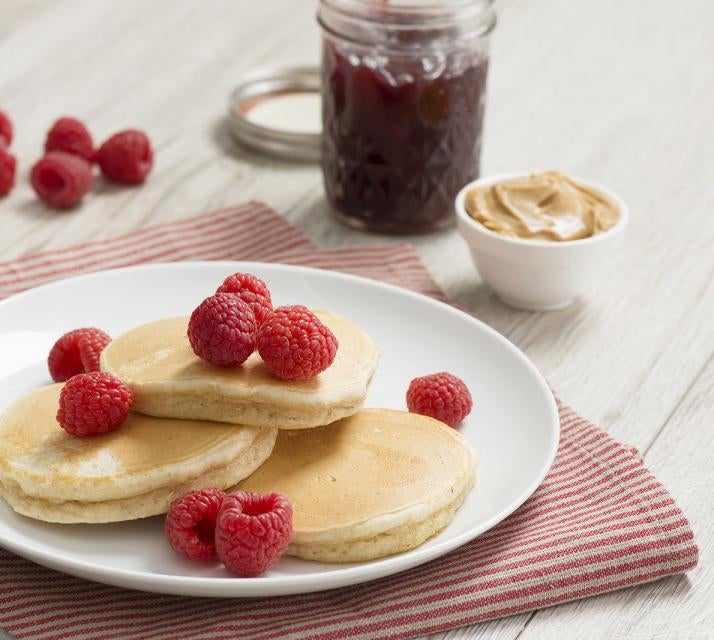 Peanut Butter & Jam Pancakes
Ingredients
2/3 cup (100g) plain flour
1/2 cup (80g) wholemeal plain flour
½ cup (80g) Sustagen® Hospital Formula Active Vanilla Flavour
1 ½ tsp baking powder
3/4 tsp bi-carbonate of soda
pinch salt
1 cup (250mL) milk
1 egg, lightly beaten
¼ cup (70g) smooth or chunky peanut butter
cooking oil spray
2 tbsp raspberry jam
125g punnet fresh raspberries
Method
In large bowl, whisk together flours, baking powder, Sustagen® Hospital Formula Active Vanilla Flavour, bi-carbonate of soda and salt. Add combined water, egg and peanut butter; whisk until combined but still slightly lumpy.
Spray oil onto frying pan. Heat over medium heat. Add ¼ cup of mixture to each pan. Cook for 2 minutes, or until bubbles appear on the surface. Carefully turn over, cook until golden.
Transfer pancakes to a plate, keep warm, repeat with remaining batter, greasing pan between each batch. If you find the pan is getting too hot, reduce heat slightly.
Serve pancakes with jam; and garnish with fresh berries.
Nutritional information
| Nutrient | PER SERVE | Quantity per 100g |
| --- | --- | --- |
| Weight (g) | 104.29g | 100.00g |
| Energy - kJ | 950.89kJ | 911.77kL |
| Protein (g) | 8.81g | 8.45g |
| Total Fat (g) | 7.33g | 7.02g |
| - Saturated Fat (g) | 1.88g | 1.80g |
| Carbohydrate | 30.29g | 29.05g |
| Sugars | 12.93g | 12.39g |
| Dietary fibre (g) | >3.03g | >2.91g |
| Sodium (mg) | 252.63mg | 242.24mg |
Other recipes you may be interested in
See all >