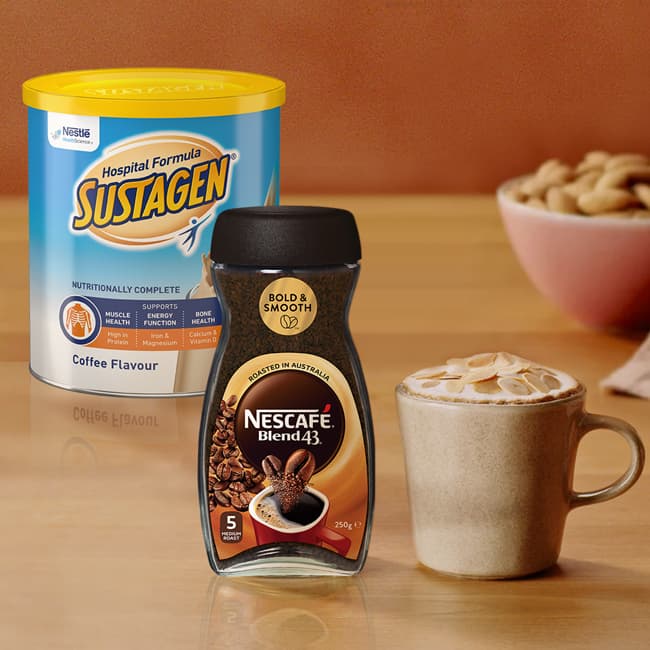 Ingredients
2 tsps (4g) of instant NESCAFÉ BLEND 43
3 level scoops (60g) of SUSTAGEN HOSPITAL FORMULA Coffee Flavour
30 ml of very hot water (~80°C)
170ml of warm water
½ tsp of almond or vanilla extract
2 tsp (4g) sliced almonds
Method
In a mug, mix 2 teaspoons (4g) of NESCAFÉ BLEND 43 with 30ml of very hot water (~80°C). Set aside.
Heat some sliced almonds in a saucepan at medium heat for no more than 45 seconds to roast the almonds and let the smell flow. Don't let them burn.
Add 3 level scoops of SUSTAGEN HOSPITAL FORMULA Coffee Flavour to 170ml of warm water in a jug. Add half a teaspoon of almond (or vanilla) extract and stir well.
Whisk the mixture for a minute until frothy. Preferably, use an electric whisk.
Pour the frothy SUSTAGEN HOSPITAL FORMULA Coffee Flavour into the mug, carefully leaving the foam on top. Top with the roasted almond slices and serve.
Nutritional information
| Nutrient | Per Serve (268g) | Quantity per 100g |
| --- | --- | --- |
| Energy - kJ | 1045 | 390 |
| Protein (g) | 14.8 | 5.5 |
| Total Fat (g) | 3.7 | 1.4 |
| - Saturated Fat (g) | 1.1 | 0.4 |
| Carbohydrate | 39.3 | 14.7 |
| - Sugars | 27.1 | 10.1 |
| Dietary fibre (g) | 0.5 | 0.2 |
| Sodium (mg) | 168 | 62.8 |
*Nutrition analysis undertaken using Xyris FoodWorks, correct at April 2022