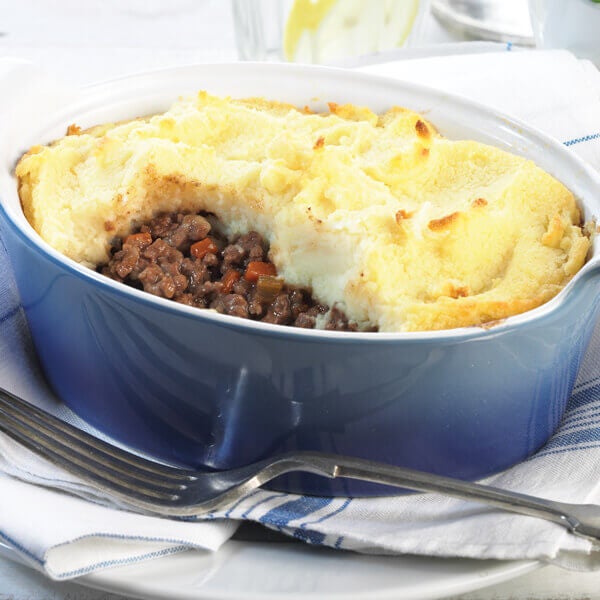 Ingredients
1 tablespoon olive oil
500g beef mince
1 onion, finely chopped
1 carrot, grated
1 zucchini, grated
2 celery sticks, finely chopped
2 tablespoons plain flour
500mL beef stock
1 dried bay leaf
1 tablespoon tomato paste
Salt and pepper to taste
5 (400g) desiree potatoes, peeled, chopped
2 tablespoons butter
125mL milk
200g (10 scoops) SUSTAGEN Hospital Formula Neutral Flavour
Parmesan cheese




Method
Preheat the oven to 200°C.
Heat oil in a large saucepan.
Add mince and cook. Stir constantly to break up the mince.
Add onion, carrot, zucchini and celery. Cook for 5 minutes or until soft.
Add flour and cook until combined.
Add stock, bay leaf and tomato paste. Bring to the boil then reduce the heat and allow to simmer for 30 minutes. Sauce should become thick. Season with salt and pepper.
For the topping boil the potatoes until tender. Drain the water and mash the potatoes.
Add butter and mix. Once mixed through, stir through the milk and SUSTAGEN Hospital Formula.
Spoon the meat in to an oven-proof dish. Cover with the mash potato. Sprinkle salt, pepper and a small amount of parmesan cheese.
Bake for 20-25 minutes or until the potato is golden.
HELPFUL TIPS
This Shepherd's Pie can be portioned and baked in individual ramekins for a more stylish presentation.
Nutritional information
| | |
| --- | --- |
| Nutrient | Per Serve |
| Energy - kJ | 1690kJ |
| - Calories | 405Cal |
| Total Fat | 14.3g |
| - Saturated Fat | 5.5g |
| Carbohydrate | 36.5g |
| - Sugars | 18.8g |
| Dietary Fibre | 2.6g |
| Sodium | 414mg |

Note that cooking may impact the nutrient content of the product and thus the final dish, as certain nutrients are sensitive to heat.