Importance of nutrition and hydration in sport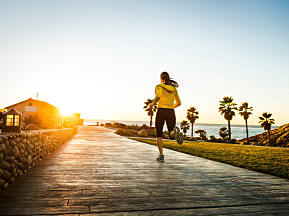 It is well established that eating well can enhance your health and wellbeing, and this is also true for optimal nutrition and peak sports performance. Whether you are an elite athlete, weekend sport participant or just want to remain fit and active, an appropriate dietary intake is important for you to achieve your full sporting potential. This includes consuming adequate fluids for hydration.
Did you know that inadequate hydration can affect sporting performance?
During exercise, sweat output often exceeds fluid intake, resulting in dehydration. As dehydration increases, there is a reduction in physical and mental performance1. Therefore, it is important to consume appropriate fluids before, during and after exercise for optimal preparation and recovery.
Why choose SUSTAGEN Sport?
SUSTAGEN Sport is an effective rehydration alternative to traditional carbohydrate-electrolyte sports drinks, when consumed after exercise2. It is a nutritious sport supplement drink, designed specifically for the nutrition and hydration demands of sport. Similar to isotonic sports drinks, SUSTAGEN Sport contains:
Electrolytes (such as sodium and potassium) to help your body absorb fluid back into the body so you rehydrate more quickly.
Carbohydrates: - key energy source during exercise and vital for recovery.
But that's not all! SUSTAGEN Sport is also:
High in Protein: required to support the growth of lean muscle mass and aid tissue repair.
High in antioxidant vitamins C and E: to help protect the body from exercise-related free radical damage3.
Packed with 16 additional vitamins and minerals: including iron, which helps to support energy production, immune function and helps reduce fatigue.
SUSTAGEN Sport can be taken before, during or after physical activity, to ensure you are well hydrated, and also to nourish your body to ensure you are ready for the next event! SUSTAGEN Sport is available in Dutch Chocolate and Vanilla Flavour. Why not see how SUSTAGEN Sport can help you achieve your sporting potential.
References
(1) https://www.sportsdietitians.com.au/factsheets/fuelling-recovery/fluids-in-sport/ Accessed 5/9/2019
(2) Desbrow, B. et al (2014) Comparing the rehydration potential of different milk based drinks to a carbohydrate-electrolyte
beverage. Applied Physiology, Nutrition and Metabolism. 39: p.1366-1372
(3)
Simioni C. et al (2018) Oxidative stress: role of physical exercise and antioxidant nutraceuticals in adulthood and aging. Oncotarget. 2018; 9: p.17181-17198