8 Great Benefits of Exercise During Your Later Years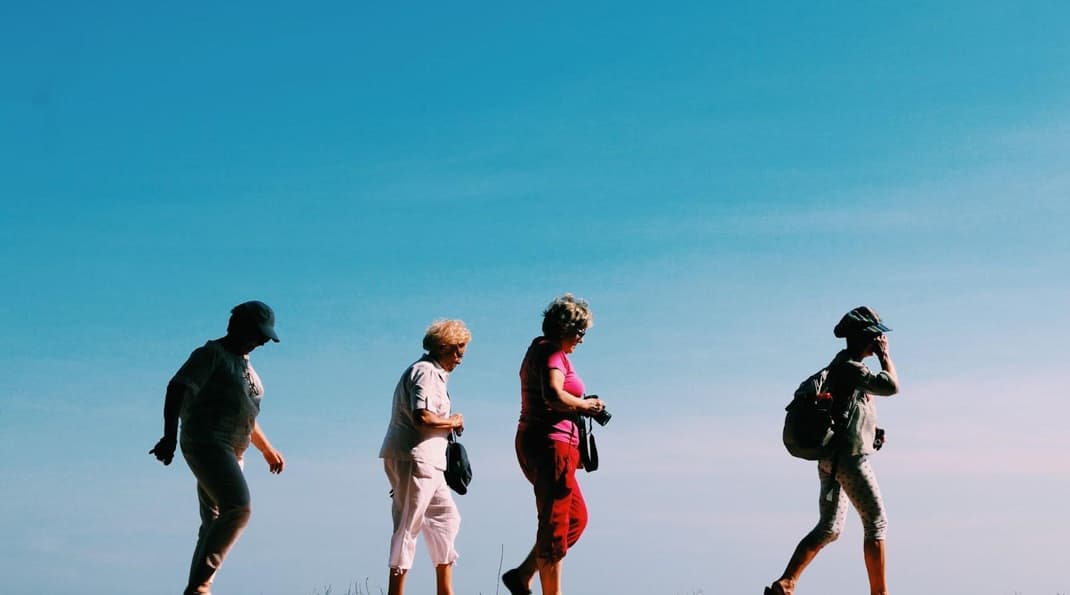 Human beings tend to slow down and become more sedentary as they age, regardless of how stimulated they feel inside.
However, an active lifestyle can go a long way to not only keeping older people physically healthy but improving mental well-being and quality of life.
Let's take a look at some benefits of regular exercise for older generations, and how keeping a stable exercise routine in later years can lead to a more fulfilling and purposeful lifestyle.
Helping to maintain a healthy weight

Weight loss and retaining a healthy weight are perhaps the main benefits of exercise with older age.
Many older adults are able to engage in an active lifestyle that can help to support a healthy weight.
Whether this is a specific exercise routine, playing a sport or just choosing everyday physical activity (such as walking instead of driving), the impact can leave you feeling fitter, stronger and increasingly mobile.
Weight loss may become a serious issue for older adults who spend little time out of the house or who lead a more sedentary lifestyle. When coupled with a natural decline in muscle mass with age, pain and lack of motivation, it may lead to an unhealthy weight. Maintaining a healthy weight is equally important for independence and retaining a positive sense of self.
Reducing the risk of illness and chronic disease

As we get older, we become more susceptible to a range of illnesses and chronic diseases, such as heart disease and type 2 diabetes.
Regular exercise may help prevent or manage chronic disease and may help to improve overall immune function — crucial for older adults who have a more compromised immune system.
Even the most minimal of exercise, such as short walks, may have a powerful effect on preventing and managing diseases and illnesses. More consistent exercise may reduce the risk of cardiovascular diseases.
Managing your social life

Exercise can be a great source of social interaction as you age. Joining a walking group, bowls team or fitness class is a great way to stay in touch with friends and meet new people while staying healthy.
Exercise — particularly team sports — can become a fun social event where you can work together with others, as well as keep you physically and mentally strong. This can help you to keep up friendships as you get older and give you a sense of purpose that helps avoid issues such as depression and loneliness.
Activities such as gardening classes and other outdoor hobbies can also be a great way to stay physically active while keeping up social contact.
Improving mobility and flexibility

Osteoarthritic pain is a significant issue for older adults with muscles and joints often becoming stiff and immobile. This can often lead to pain or discomfort, and sometimes a loss of independence, coupled with a natural decline in muscle mass and strength.
While exercise won't necessarily reverse these changes, maintaining consistent movement and practising regular exercise can help your muscles and joints to remain flexible, and decrease discomfort, in addition to supporting muscle mass.
Boosting mood and wellbeing

Exercise is known to have significant mental health benefits.
Along with physical improvements, regular exercise is known to impact the mental well-being of people of all ages. Exercise produces endorphins, which act as a stress reliever, making sure you feel happy, satisfied and positive.
This can help promote positive mental health in older adults. Many older adults struggle with the stigma associated with mental illness. Mental illness, such as depression and anxiety, is prevalent amongst this age group but is compounded by social isolation. Exercise, particularly in groups, is a great way to promote social connectedness and promote health and wellbeing.
Improving sleep patterns and sleep quality

Sleep is important in old age. Regular exercise can increase sleep quality, alleviate daytime tiredness and make it easier to fall asleep at night.
A regular sleep routine can ensure you're ready for the day ahead and give your body time to recover after what are more physically taxing days.
Exercise can also alleviate the risk of sleep disruption and conditions such as obstructive sleep apnea.
Enhancing cognitive function

Regular exercise and physical activity are thought to have benefits for our cognitive function too.
Exercise is thought to improve memory and thinking skills indirectly because it helps to reduce stress and improve sleep and mood. Problems in these areas often cause or contribute to impaired cognitive function.
It is also thought to improve cognitive performance directly through the positive physiological effect it has on the brain, such as the growth of new blood vessels in the brain, reduction in inflammation, and the overall health of new brain cells.
Reducing the risk of falls

Older adults run the risk of falls, which can be potentially disastrous for physical wellbeing and maintaining independence in their everyday lives. Regular exercise can help to improve strength and flexibility, giving older people more balance and coordination.
In turn, this reduces the risk of or lessens the impact of falls. As we age, we take longer to recover from falls, so it is important to try to avoid them in the first place.
Supporting exercise with a healthy diet
Exercise will be most impactful when coupled with a healthy, balanced diet.
However, here are a number of significant changes that happen as we age that make it harder for us to retain this diet into old age, such as:
Loss of mobility
Isolation
Poor health or underlying health conditions
Dependence on medication
Lack of income
Loss of sense of taste and smell
Problems chewing or swallowing food
To ensure as healthy a diet as possible and see the best impact of one, consider the following:
Regularly eating a variety of fruit and vegetables
Eating foods that offer plenty of nutrients and additional calories
Eating whole grains, such as oatmeal, whole-wheat bread and brown rice
Choosing low-fat dairy products for calcium
Picking foods that are low in cholesterol and fats, including saturated and trans fats
Drinking enough liquid throughout the day, particularly water
Avoiding empty calories such as fried foods, fast food, baked goods and sodas
If your diet is lacking in balance and diversity of foods, a nutritional supplement may be a suitable addition to your diet to provide you with the necessary nutrients needed to stay healthy.
There is a range of SUSTAGEN products that may help to support good nutrition and health.
These can be taken to complement an active lifestyle, such as:
SUSTAGEN Sport – high in protein, as well as containing 17 vitamins & minerals
SUSTAGEN Everyday – low GI for sustained energy and containing 14 vitamins & minerals
Exercise is something we should all dedicate time to, as it can have great physical and mental impacts. However, as you age it becomes even more important that you commit to an exercise routine to mitigate health risks and retain an active lifestyle.
If you aren't sure where to start, speak to an experienced healthcare professional — such as an exercise physiologist, physiotherapist or personal trainer — about the most appropriate exercises for your age and ability.
SUSTAGEN Sport is a Formulated Supplementary Sports Food which must be consumed in conjunction with a nutritious diet, not as a sole source of nutrition and should be used in conjunction with an appropriate physical training or exercise program. Not suitable for children under 15 years of age or pregnant women. Should only be used under medical or dietetic supervision.
SUSTAGEN Everyday is a Formulated Supplementary Foods which can be of assistance where dietary intakes of nutrients and energy may not be adequate. Consume as part of a varied and balanced diet and healthy lifestyle.
Sources