SUSTAGEN® Hospital Formula ACTIVE Plus Fibre - CHOCOLATE Flavour
Packed with all the nutritional goodness of SUSTAGEN® Hospital Formula, plus the added digestive benefits of fibre in a great tasting nutritious drink.
Available in pharmacies.
High in Fibre – supports digestive health.
High in Protein – supports muscle health.
High in Calcium & Vitamin D – supports bone health.
Buy now
SUSTAGEN - Stay strong, stay active
Stay strong and active with a nutritionally complete boost that's high in fibre for digestive health, with essential vitamins and minerals, including vitamin D and 50% of your daily calcium requirements to support bone health. 
A busy lifestyle, poor eating habits, or a low appetite can mean nutritional requirements aren't being met through food alone. SUSTAGEN® Hospital Formula Plus Fibre Chocolate flavour is a nutritionally complete drink to supplement your diet.
 
SUSTAGEN® Hospital Formula Plus Fibre is a formulated meal replacement and cannot be used as a total diet replacement. Nutritional supplements can only be of assistance where dietary intake is inadequate. Please seek advice on your individual dietary needs from an Accredited Practising Dietitian or your healthcare professional.
Easy preparation
Mix 3 level of scoops* with 200ml water or milk (depending on taste).
Use enclosed scoop.
*1 x scoop of SUSTAGEN® = 20g. Stir before serving.
Great chilled or served warm.
All prepared products should be tightly covered and consumed within 6 hours at room temperature or within 24 hours if refrigerated.
Store in a cool dry place and use within 4 weeks after opening.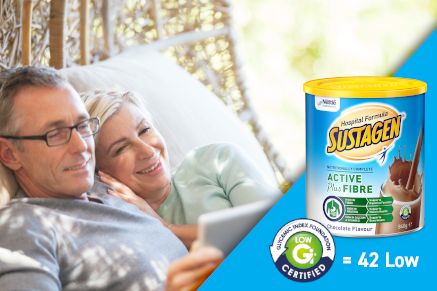 Available flavours: 
Ingredients
Non Fat Milk Solids (61%), Corn Syrup Solids, Sugar, Guar Gum (Partially Hydrolysed), Whole Milk Powder, Cocoa Powder (4%), Minerals (Magnesium Hydrogen Phosphate, Ferric Pyrophosphate, Zinc Gluconate, Copper Gluconate, Manganese Sulphate, Sodium Molybdate, Chromium Trichloride, Sodium Selenite), Vitamins (C, E, Niacinamide, A, D3, B6, B1, B2, Folic Acid, K1, B12), Flavour. Contains Milk. May contain Soy. Gluten free.