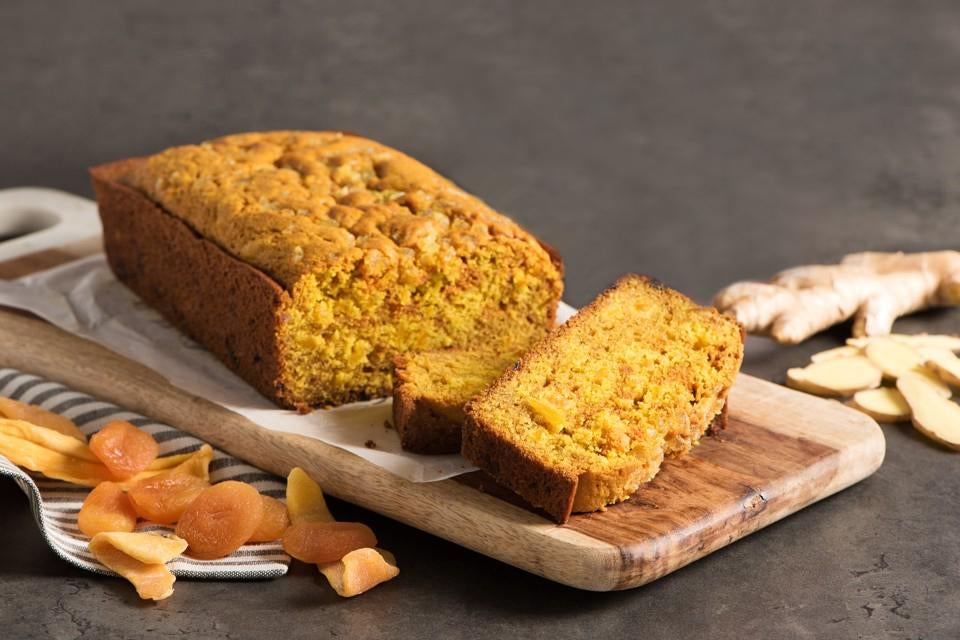 Ingredients
TIPS
You will need approximately 2 large overripe bananas for this recipe
2/3 cup (170mL) coconut oil, melted
2 eggs
1 cup (300g) mashed banana
2/3 cup (170mL) milk
1 ½ tbsp minced fresh ginger
3 tsp ground turmeric
1 tsp baking powder
1 cup (160g) Sustagen® Hospital Formula Active Vanilla Flavour
3/4 cup (110g) plain flour
1/2 cup (80g) wholemeal plain flour
1/4 cup (40g) chopped dried apricots
1/4 cup (45g) chopped dried mango
1 ½ tbsp finely chopped candied ginger
Method
Preheat oven to 160°C. Grease and line a 22 x13cm loaf pan; set aside.
Whisk together coconut oil, eggs and banana. Stir in milk, ginger, turmeric and baking soda.
Add Sustagen® Hospital Formula Active Vanilla Flavour and flours, stir until just combined – batter may be slightly lumpy at this stage. Stir in apricots and mango. Pour Mixture into prepared pan. Sprinkle with candied ginger.
Bake for 60 minutes or until a toothpick comes out clean when inserted into centre of loaf. Cool in pan for 10 minutes before turning out onto a wire rack to cool. Serve warm or cool completely.
Nutritional information
| Nutrient | PER SERVE | Quantity per 100g |
| --- | --- | --- |
| Weight (g) | 103.52g | 100.00g |
| Energy - kJ | > 1265.16kJ | > 1222.08kL |
| Protein (g) | 7.54g | 7.29g |
| Total Fat (g) | 17.01g | 16.43g |
| - Saturated Fat (g) | 11.57g | 11.17g |
| Carbohydrate | > 29.20g | > 28.20g |
| Sugars | 13.41g | 12.96g |
| Dietary fibre (g) | 2.10g | 2.03g |
| Sodium (mg) | 92.74mg | 89.58mg |
Other recipes you may be interested in
See all >