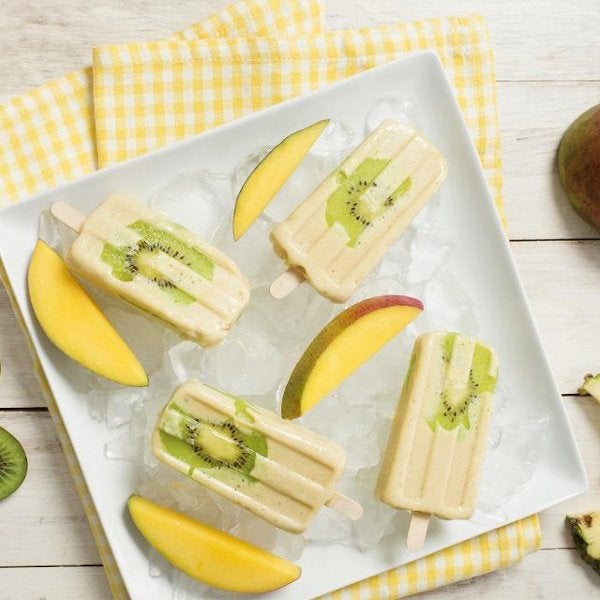 Ingredients
1 cup (250mL) water
3 scoops (60g) SUSTAGEN Hospital Formula, Vanilla Flavour
3/4 cup (100g) frozen pineapple chunks
3/4 cup (100g) frozen mango chunks
1 medium banana (200g), peeled and sliced
3 kiwi fruit, peeled and sliced
Method
In a small jug combine water and SUSTAGEN Hospital Formula, Vanilla Flavour and mix well.
In a blender, pulse the frozen pineapple, frozen mango chunks, banana and SUSTAGEN mixture until smooth.
Divide the kiwi slices amongst six ½ cup (125mL) ice cream moulds, pour mixture into moulds and insert paddle pop sticks or secure with lids. Freeze overnight or until set.
TIPS
To release, dip mould very briefly in hot water. Pops should easily slide out.
Nutritional information
| Nutrient | Per Serve | Quantity per 100g |
| --- | --- | --- |
| Weight (g) | 157.33g | 100.00g |
| Energy - kJ | 441.52kJ | 280.63 kj |
| - Calories | 105.6cal | |
| Protein | 3.50g | 2.23g |
| Total Fat | 0.49g | 0.31g |
| - Saturated Fat | 0.18g | 0.11g |
| Carbohydrate | 20.01g | 12.72g |
| - Sugars | 15.66g | 9.95g |
| Sodium (mg) | 30.09mg | 12.12mg |