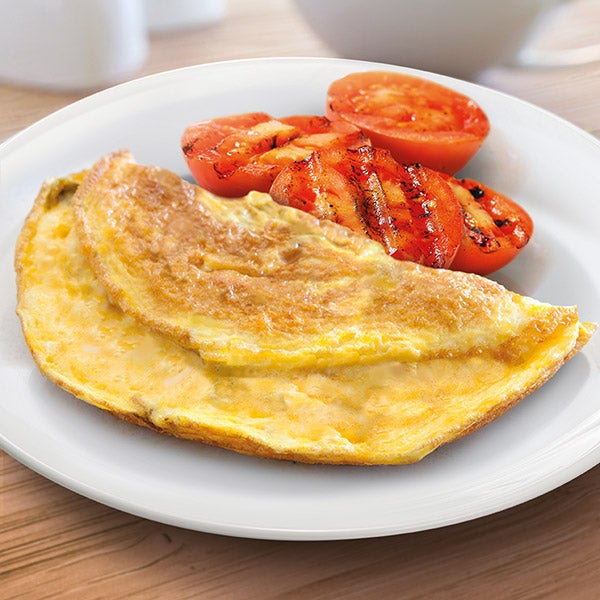 Ingredients
1/2 cup (125mL) milk
3 scoops (60g) Hospital Formula Sustagen® Neutral Flavour
4 eggs, lightly beaten
1 tbsp olive oil
Method
In a small jug combine milk and Sustagen® Hospital Formula Active Neutral, mix well.
In a medium bowl combine eggs and Sustagen® Mixture. Place half the oil in small omelette pan on medium-low heat. Swirl to coat pan with oil; reduce heat to low and pour in half the egg mixture. As outside of egg starts to cook, gently move the mixture from the outside of the pan toward the centre, allowing uncooked egg to slip to outer edge of pan. Continue moving the cooked egg to the centre until egg is golden on base. Working quickly, flip omelette onto serving plate.
Repeat with remaining oil and egg mixture. Tip – Omelettes can be filled with smoked salmon and sautéed baby spinach leaves, if desired.
Nutritional information
| Nutrient | PER SERVE | Quantity per 100g |
| --- | --- | --- |
| Weight (g) | 205.58g | 100.00g |
| Energy - kJ | 1535.95kJ | 747.15kJ |
| Protein (g) | 21.94g | 10.67g |
| Total Fat (g) | 20.81g | 10.12g |
| - Saturated Fat (g) | 5.65g | 2.75g |
| Carbohydrate | 23.67g | 11.51g |
| - Sugars | 17.67g | 8.59g |
| Sodium (mg) | 256.53mg | 124.79mg |
Other recipes you may be interested in
See all >