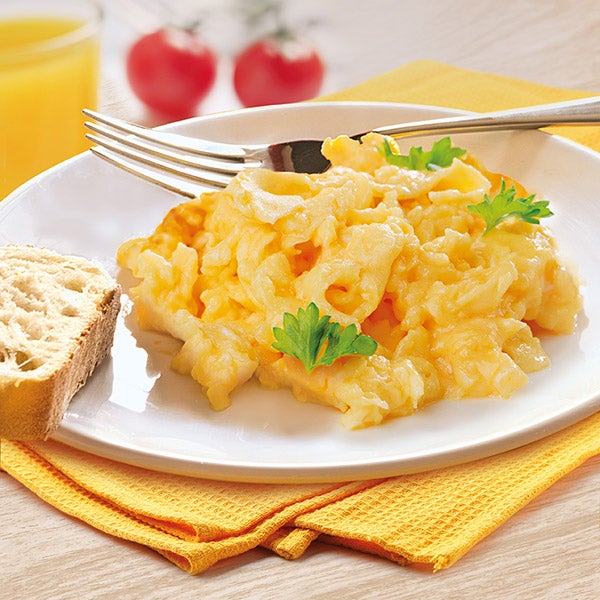 Ingredients
2/3 cup (170mL) milk
4 scoops (80g) Sustagen® Hospital Formula Active Neutral Flavour
4 eggs, lightly beaten
20g butter
Method
In a small jug combine milk and Sustagen® Hospital Formula Active Neutral Flavour, mix well.
In medium bowl combine eggs and Sustagen® Mixture. Place butter in medium fry pan on medium heat. Swirl to coat pan with butter. Once butter is foaming, add egg mixture; cook for 1 minute or until mixture just starts to set. Using a spatula, push the egg towards the centre of the pan until eggs form creamy curds.
Serve topped with fresh flat leaf parsley and sliced crusty sourdough, if desired.
Nutritional information
| Nutrient | PER SERVE | Quantity per 100g |
| --- | --- | --- |
| Weight (g) | 239.55g | 100.00g |
| Energy - kJ | 1718.98kJ | 717.59 kj |
| Protein (g) | 25.10g | 10.48g |
| Total Fat (g) | 20.73g | 8.65g |
| - Saturated Fat (g) | 10.15g | 4.24g |
| Carbohydrate (g) | 31.63g | 13.20g |
| Sugars (g) | 23.63g | 9.86g |
| Sodium (mg) | 352.64mg | 147.21mg |
Other recipes you may be interested in
See all >